During the October half term 2016, we witnessed the spectacle on Chepstow Road that was 'Inviting the neighbours around to paint.'
Looking back at Inviting the Neighbours Around to Paint
During the October half term 2016, we witnessed the spectacle on Chepstow Road that was 'Inviting the neighbours around to paint.' In this blog article, we look back on how a group of artists - Marega, Marion, Bill, Art Rat, Barrie and Steve - took a stand for art.
They were courageous to commit to 5 days outside in a cold late October and brave to chose a spot on Chepstow Road that has long associations with street drinking and drug-taking. As one local young man said, this group of artists were rewarded by meeting the 'real people of Maindee.' Though this activity week of activities centred on painting the UK-wide October Big Draw Festival the physical space outside allowed old-fashioned technology like the mechanical processes of print making and a chance to consider mathematics through pattern-making. Taking this approach outside takes guts and it really helped people tap into their creativity and ability to connect with each other.
What is the basic idea?
It all started with 3 blank canvases of 1 metre by 2 metres - which were constructed and placed on Livingstone Place next to the public toilets. The concept for the course of 5 days is that a different lead artist take turns to decorate the boards. This was the schedule: Monday painting; Tuesday print-making; Wednesday collage; Thursday abstract and Friday 3d. The background to the project can be found on our blog - also explaining why each day should layer on top of the day before.
Why did we want to do it?
We wanted a tryptic [a composition over the 3 pieces] to emerge over the half term week; each day involved covering much of the previous day's work and adding new layers. Although the week was publicised in advance, the main aim was for curious people to come over to the site and get involved: essentially for the neighbours to the volunteer-run Maindee Library to meet each other and be creative.
Part of the Big Draw was the theme of Science Technology Engineering Arts and Maths. We wanted to start with drawing before using the mechanical translation of drawings into prints, printing off digital images for collage and physically making things in 3 dimensions.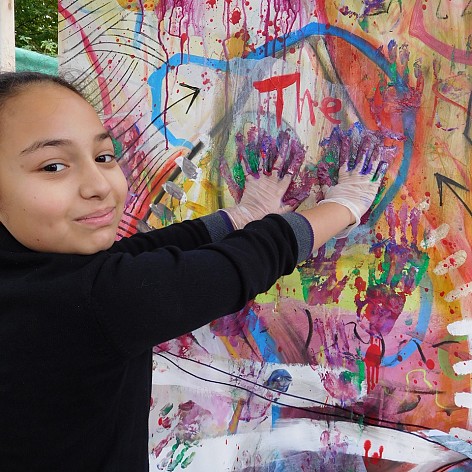 In terms reaching out to people Marega said that:
'It felt important that the project take place on the chosen site as it could be seen as both a positive and creative space and because of this the project involved EVERYONE that uses or passes through that space'.
Many people did not speak English as their first language.
What sort of drawing activities did we do?
Each day had a diferrent professional lead artist – with Marega also in support on each day. Different techniques were taught and shared – including drawing and painting using a long stick; drawing with both hands- separately and together; blind drawing; print-making; mono print and photo transfer; collage; exploring geometry and shapes by painting with brushes attached to string to create circles; 3D- painting of objects and creating new uses. Materials were provided free of charge to all participants – including pencils, pens, brushes and paint.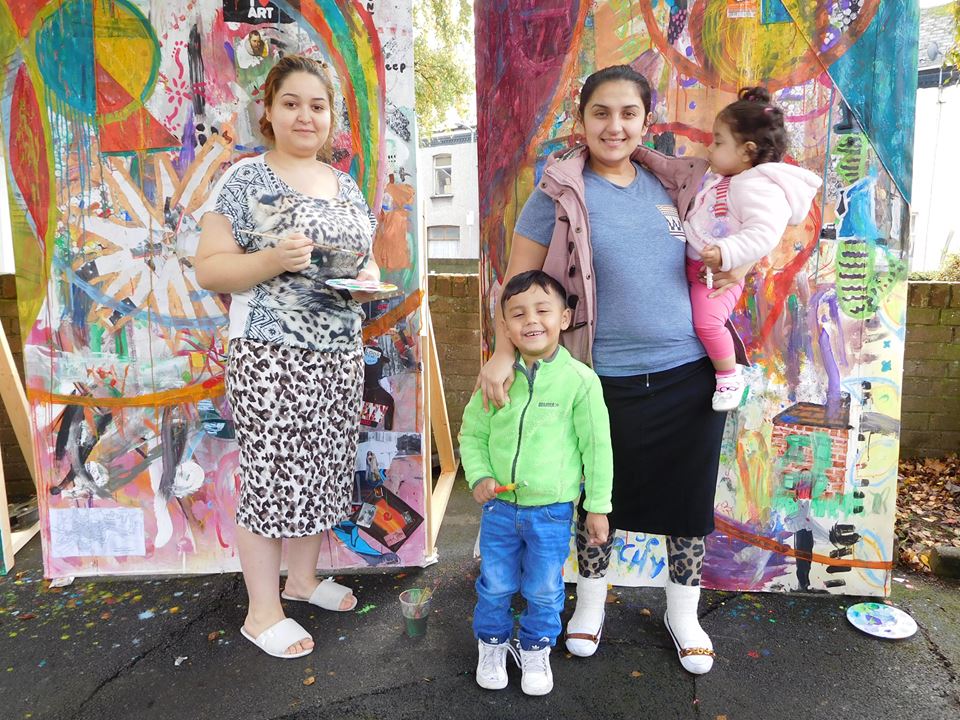 Thursday's lead artist Barrie Morgan spoke of mixing art with pattern-making as follows: "I attempted to use basic forms (circles and triangles) to visually weave the three panels together - but not in an authoritarian way. The generated composition still invited contributors to freely express themselves over and around these forms. The beautiful thing with abstraction is that you can work intuitively; you are not required to visually reference nature or physical reality." This feeling of freedom was important as people started to occupy the wider space; art work spread from the boards and into pieces that were pinned up in the surrounding area including phone box and one of the public toilets. This could not have happened so easily within an indoor environment.
What did people find fun and challenging?
The project engaged with anyone that was curious and willing to stop at this spot on Chepstow Road, including all ages and all drawing / non drawing abilities. At the start of the week there were 3 blank canvases so the most challenge aspect seemed to be the very act of starting to draw and paint. The first mark was made by one man passing by who drew a large outline of a lighthouse. This was definitely a good start as others could add detail over the next few hours.
As the week developed it was clear that people were relaxing and no longer looking over their shoulders at what they were doing; they felt that they had the right to be there and that nobody would tell them off or judge them for being creative. By the end of the 5 days it was clear that parents and grandparents of children were encouraged to take part aswell. This was probably the best role model for children to be drawing alongside their parent or guardian.One participant, Mel Seddon, said that:
'It was an innovative way to engage the community, The Big Draw, art and artists. I loved the end product too.'
We have entered this project for a Big Draw Award thanks to some good spotting by Mel!
What did we learn?
This 5 day event was a great partnership between the group of artists and the work being done by a local charity to take arts education beyonf the volunteer-run library. As a group of people we learned that we can all connect with anybody by showing our vulnerability – and a little bit of craziness – if we put ourselves in somebody else's space – such as the street - and start making creative things happen.
As the week developed and got to Thurswday the 'real people of Maindee' [words of a local yong man Lloyd Gittens] respected that a proper opportunity had been given to them: the artists had not hidden themselves away in a warm space [the obvious place being in the library across the road] as they had come outside to the community. Whatever happens, the project helped to reclaim one of the very few pieces of open green space in the area for people to use.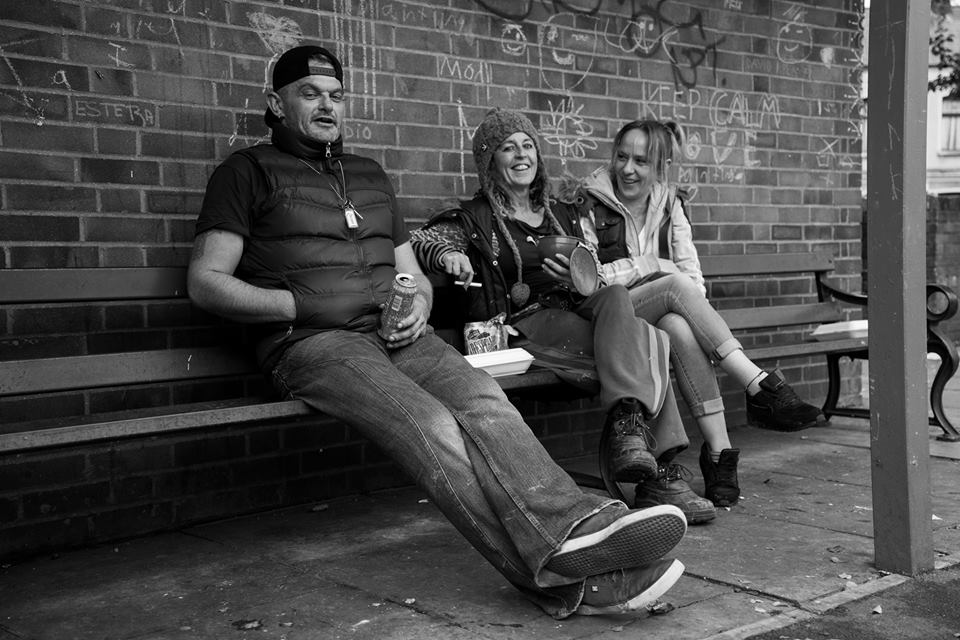 By Friday afternoon we learned that this type of activity created a definite sense of fun. Some of the children were singing and dancing along with Gareth Clark and Steve Jones. As Mel Seddon had said previously in the week, the project was about being in the moment rather than just the end product. These sounds and atmosphere can be sampled on the short film made by Steve Jones.
Documenting the 5 days
A blog post charting progression of the week [as events happened] can be found on this blog and visually through both 'DasClarks' and 'MaindeeLibrary' on Instagram.
You can also find further coverage and perspective on: