In this blog article, we introduce one of the latest artistic initiatives supported by New Paths to start with us.
Introducing Theatre for Change
The project is called Theatre for Change and is led by Ismael Velasco, who describes his work as:"An initiative to harness the power of performance to connect and motivate the hearts as a tool for building relationships and inspiring collaborative action."
Ismael has already started to perform his short one-man play at a number of venues in the Maindee area. He is pictured above at Maindee Library. His goal for February and March 2017 is to go many different places in the neighbouring communities. He told us that:
"I hope to engage all the communities of Maindee - including my own (whether faith-based, cultural or artistic). But always as one more voice in a pool of local voices, offering their distinctive contribution on a basis of inclusive diversity, in a process of co-design, where the answers we arrive at embody everyone's contributions. "
We asked Ismael a few questions about the project and what he has done in the first couple of weeks since starting January 2017.
How and why?
Ismael tells us that:
"The Theatre for Change idea is born from the sense that there are many networks and micro-communities in Maindee which sometimes struggle to connect and can co-exist without much authentic contact [between people].
The goal is to perform a tried and tested one-man play to as many of these local networks as possible, use the performance as a trigger for elevated conversations, and invite those most strongly moved by it to come together once more in March, across all networks, to take a creative step of action in service to Maindee."
For example, the first two performances at Maindee Library have led to further performances taking place - and offers to connect with other groups of people. Ismael tells us that:
"A key to this is to perform in a wide range of spaces, including community venues but also living rooms and shops, to audiences ranging from a single person to dozens at a time."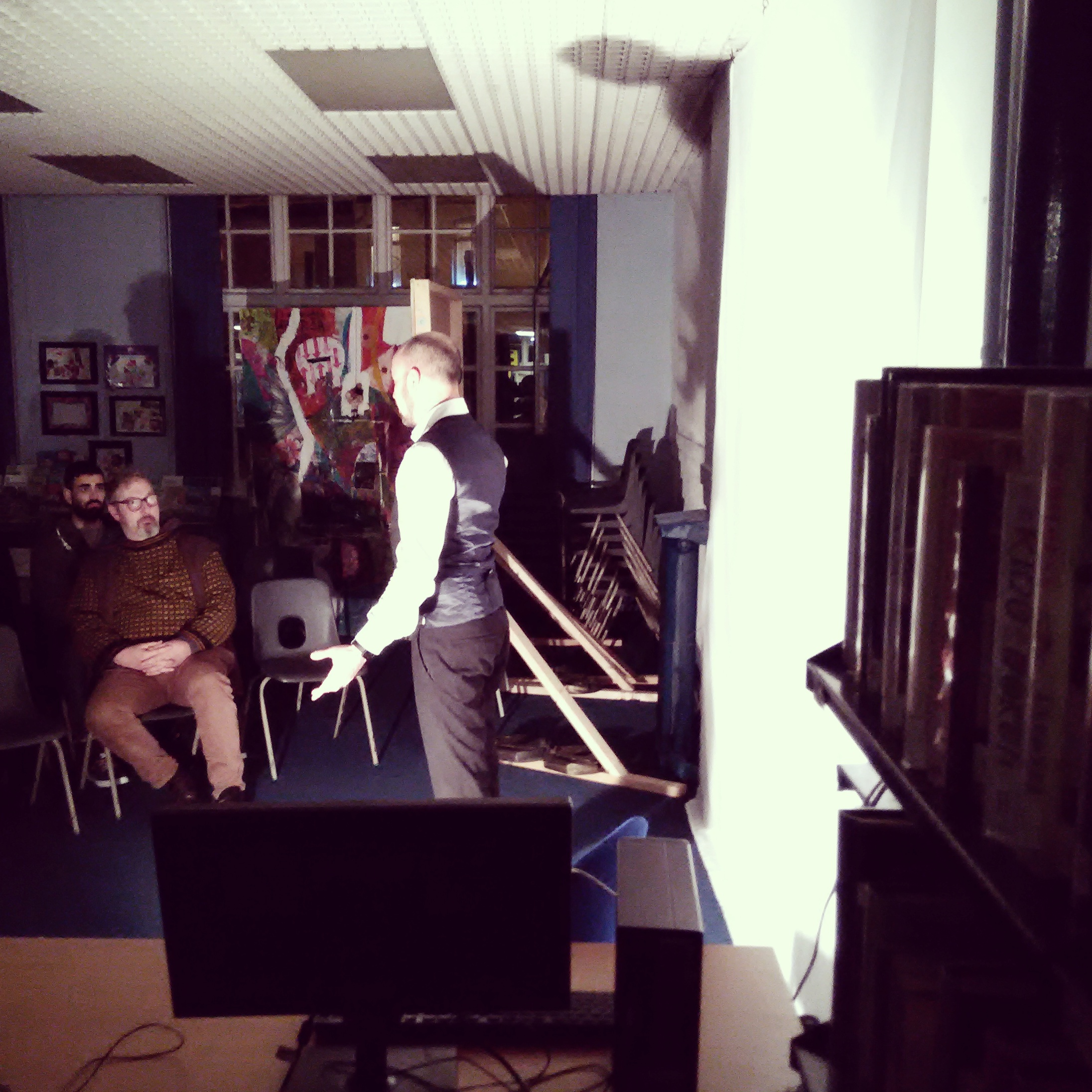 How the project has developed
-- 2 performances at his home, for a youth group with 2 young adults and a 16 year old, and one for 3 adults.
-- One at the library for 8 young people from 2 youth groups (and a visiting adult)
-- Once at St Julians in a private home for a family
-- One by Christchurch Road in a private home for a family
-- One at Maindee Library for the New Paths Gathering [Weds 8 February]

Audience so far:

Young people (13-30): 13

Adults (30+): more than 20 [including library]

Families: 2

Private homes: 2

Public spaces: 1 (Library two performance)
Emerging impacts
Already those performances have generated invitations for further performances in:
A home - as a gift from a participant to his best friends
A basketball court - for a participant's sports team
A local school - for a participant's theatre class
A set of local businesses - for a participant's New Path project
Ismael reports that the peformances have set in motion the processes for a new, Maindee-wide peer education youth project, from participants inspired by the story of the play when it was performed by him in Greenland in 2016.
Learning
In terms of learning, Ismael tells that:
"I have loved New Paths' flexibility and responsiveness and their emphasis on collaboration.
The speed of expansion has also demonstrated that my sense of the vitality of local networks in general, and the dynamism and receptivity of local youth, seem well grounded. Time will reveal more."
To get in contact with Ismael email him on ismael@adorafoundation.org